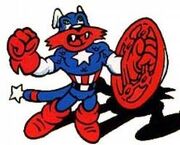 Captain Americat (or Steve Mouser) is a major character of the Spider-Ham universe. He sometimes teams-up with Spider-Ham as both journalist and super-heroes. He is the most reaccuring hero in the Spider-Ham Comics.
Parody Of . . .
Edit
Captain America
Appearances
Edit
Captain Americat has appeared in both out-of-comic and in-comic appearances. He made two appearances in Spider-Ham comics, with five extra appearance in other Marvel comic books, making him the second most popular icdSngoreakjertajli Version
There is an alternate version of Captain Americat in the Ultimate Civil War Spider-Ham Comic called Captain Hamerica.