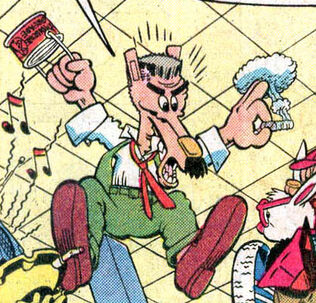 J. (James) Jonah Jackal is a supporting character in the
Spider-Ham
universe, usually shown as the newspaper publisher. He is one of the three people the Swinester Six capture, eventually being rescued by Spider-Ham. He is a jackal.
Parody Of . . .
Edit
J. Jonah Jameson from the Spider-Man comics, with their names and their jobs are seemingly the only things they have in common.
Appearances
Edit
J. Jonah Jackal has appeared in the Peter Porker, the Spectacular Spider-Ham Comics #1 and the Spider-Ham 25th annivarsary special.